New Hampshire Governor Is All In For Sports Betting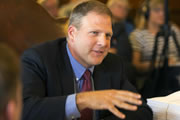 CONCORD, N.H. – The New Hampshire Governor said during his budget address that he is all in for sports wagering.
On Thursday, Gov. Sununu delivered his 2019 budget speech. His speech included topics about funding for schools and special education, lead paint remediation, taxes, and legal sports gambling.
Governor Wants Sports Betting For New Hampshire
During his speech, Sununu addressed his feelings about sports betting in New Hampshire and what he would do with the money.
"This budget increases our education revenue streams by legalizing sports betting, which will bring in an additional $10 million in annual revenue beginning in fiscal year 2021," said Sununu. "Given our new opportunities to legalize sports betting in a responsible and reliable way, and capture more revenue for our education system, I say we go all in and get it done!"
Legalize Gambling On Sports Through The Proposed Budget
Budgets are passed the same way that any bill from Congress is passed. The budget that the governor is proposing must be approved by both the House and Senate before the state can implement it. If the budget is approved, the Governor will legalize sports betting in New Hampshire. This is similar to how Rhode Island legalized sports betting in their state.
The proposal adopts some of the language used in NH HB 480, which is a bill that would legalize sports betting. The budget would allow the New Hampshire Lottery Commission to undertake a bidding process so companies in the state can provide sports gambling locations. Only authorized communities that allow for gaming can open up sportsbooks.
The money generated through gambling on sports would go to a few different funds per the budget. One of the allocations would be the Council for Responsible Gaming, in order to support education and treatment of gambling addiction and disorders. Revenue would also go towards the state education system.
Over in the Senate, lawmakers are currently looking at NH SB 310 which would tie sports gaming to casino gambling. But, Gov. Sununu's proposed budget could provide a shortcut to legalizing sports wagering in the Granite State.
Best New Hampshire Sports Betting Sites - 100% Trusted + Safe
| | | | | |
| --- | --- | --- | --- | --- |
| | | 50% Up To $250 | VISA + Wire Transfer | |
| | | 50% Up To $1,000 | VISA, Bitcoin, Cash Wire | |
| | | 50% New Member Bonus! | VISA, Bitcoin | |
| | | 100% Up To $300 | VISA, Bitcoin | |
| | | 50% Up To $1,000 | Bitcoin, Wire Xfer, VISA | |