New Hampshire Online Gambling Bill Resurfaces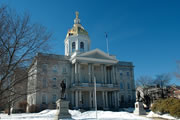 A long-forgotten online gambling bill seems to have recently been put back on the table by New Hampshire policymakers.
We first heard of HB 562 at a public hearing in January, but the bill has been slow to gain traction and was thought to be dead. On October 10th, HB 562-FN was reintroduced by the Ways and Means Committee.
The bill, sponsored by Reps. Eric Schleien, Nick Zaricki, and Robert Fisher, does not detail online gambling regulation but instead eliminates its restriction.
HB 562-FN would amend RSA 647:2, V to include the following subparagraph in order to exempt online gambling from the list of gambling offenses:
"(d) Gambling done over an Internet connection on a website on the Internet."
Interestingly enough, the fiscal note featured in HB 562-FN discloses that the bill is not expected to have an impact on expenditures due to the state having no history of prosecuting online gaming offenses.
The question of why the bill has been dawdling may be due to any of several reasons. For one, the bill as proposed is extremely vague. HB 562-FN is largely considered a shell bill, and research will need to be conducted on the economic impacts of online gaming along with regulatory guidelines.
New Hampshire legalized online lottery sales in July, which may also be contributing to the delay of passing HB 562-FN. As the online gaming bill cannot standalone as-is, it may be beneficial to merge HB 562-FN with the lottery law. NH Lottery Commission Executive Director Charlie McIntyre has stated that he hopes to launch the online lottery in early 2018, which means there is still time left to make the move.
HB 562-FN will be heard during the executive session scheduled for October 25th. If passed, the law for sports betting in New Hampshire would take effect January 2018.
Best New Hampshire Sports Betting Sites - 100% Trusted + Safe
| | | | | |
| --- | --- | --- | --- | --- |
| | | 50% Up To $250 | VISA + Wire Transfer | |
| | | 50% Up To $1,000 | VISA, Bitcoin, Cash Wire | |
| | | 50% New Member Bonus! | VISA, Bitcoin | |
| | | 100% Up To $300 | VISA, Bitcoin | |
| | | 50% Up To $1,000 | Bitcoin, Wire Xfer, VISA | |